1.
Garden Wisdom: Lessons Learned from 60 Years of Gardening
Step into the garden with writer and rural historian Jerry Apps. In this treasure trove of tips, recollections, and recipes, Jerry combines his hard-earned advice for garden success with a discussion of how tending a garden leads to a deeper understanding of nature and the land. From planning and planting to fending off critters and weeds, he walks us through the gardening year, imbuing his story with humor and passion and once again reminding us that working even a small piece of land provides many rewards. (copied from Goodreads, for more go here )
My opinion: It's a must read if you are a lover of vegetable gardening. Has some good recipes and a great info on indivisible vegetables.
2.
A Washington State Library "Summer Reads" book selection
"The Browne's foray into slower living in Whatcom County is an enjoyable read. Their delightful, yet very real, experiences in making the big leap toward their dreams make for a humorous and charming book." —Washington State Librarian Jan Walsh (copied from Goodreads, for more go
here
)
My opinion: Loved it. I guess it was because I could relate to the author.
In this lively and compelling account, Rubin chronicles her adventures during the twelve months she spent test-driving the wisdom of the ages, current scientific research, and lessons from popular culture about how to be happier. Among other things, she found that novelty and challenge are powerful sources of happiness; that money can help buy happiness, when spent wisely; that outer order contributes to inner calm; and that the very smallest of changes can make the biggest difference. (copied from Amazon)
4.
My opinion; It was OK, had a few good ideas but I couldn't see myself doing it.
Now a legacy of blood and desire will test her beautiful copper-haired daughter, Brianna, as Claire's spellbinding journey of self-discovery continues in the intrigue-ridden Paris court of Charles Stuart ... in a race to thwart a doomed Highlands uprising ... and in a desperate fight to save both the child and the man she loves...
My opinion; I'm still loving it. I did find it a little harder to keep track of all the different characters. It was partly cause I know no french.
5.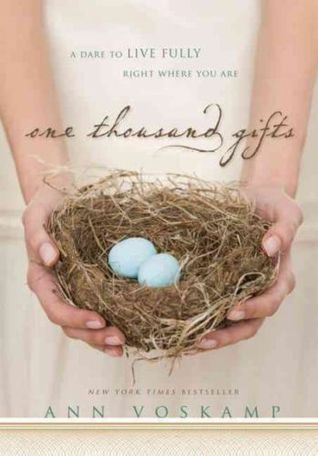 Just like you, Ann Voskamp hungers to live her one life well. Forget the bucket lists that have us escaping our everyday lives for exotic experiences. How, Ann wondered, do we find joy in the midst of deadlines, debt, drama, and daily duties? What does the Christ-life really look like when your days are gritty, long and sometimes even dark? How is God even here? In One Thousand Gifts, Ann invites you to embrace everyday blessings and embark on the transformative spiritual discipline of chronicling God's gifts. It s only in this expressing of gratitude for the life we already have, we discover the life we've always wanted a life we can take, give thanks for, and break for others. We come to feel and know the impossible right down in our bones: we are wildly loved by God. Let Ann's beautiful, heart-aching stories of the everyday give you a way of seeing that opens your eyes to ordinary amazing grace, a way of being present to God that makes you deeply happy, and a way of living that is finally fully alive. Come live the best dare of all!
My opinion; I love the concept of taking notice of Gods gifts and writing them down, but I lost interest in her book after that part was cover. For the remaining 2/3 of the book was a challenge to continue.